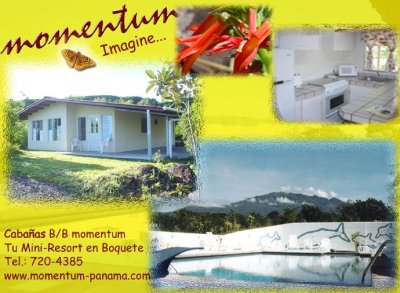 Information about Cabañas Momentum
Boquete, Chiriquí
Tel.+507 720-4385
Website: http://www.momentum-panama.com/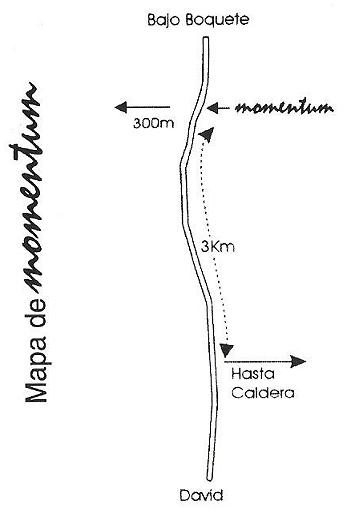 Momentum's fully-equipped cabins and B&B are comfortably tucked into the green mountains of western Panama. At 1,000 mts. (3,300 ft.), our peaceful location provides privacy and security; and comes with spectacular views of the dormant Baru Volcano, at 3,475 meters (10,750 ft.), the highest point of land in Panama.

The Momentum complex includes five spacious cabins set amidst rich greenery, each with microwaves, frost-free refrigerators, automatic gas stoves, coffee makers and toasters.

Sleep fabulously on the queen-size bed and sofa-bed in each cabin. Freshen up in the large bathroom with HOT showers. Cars park, out of the sun (rain?), under an attached garage. All cabins are handicapped accessible.

WHAT'S TO DO?
Enjoy our 12m. by 6m. (40ft. X 20ft.) solar panel-heated swimming pool. Firm up in the spacious fitness center. Run or walk along cliff side trails. Play volleyball. Or just kick back! Internet on-site.

Off-site, consider a day of white-water rafting, tour a coffee plantation, go on a tree canopy tour go horse-back riding, mountain bike riding, visit the nearby hot springs, or watch a wide array of colorful butterflies and birds. The sandy beaches of the deliciously warm Pacific and/or Caribbean coasts are just 60 km. (40 miles) down the mountain.

WHERE ARE WE?
Cabanas B/B Momentum is 30 km. (19 miles) north of David, the capital of Chiriqui province, and 7 km. (4.5 miles) before the Boquete town-site.
(Please click on a letter for companies in the free zone starting with that name)