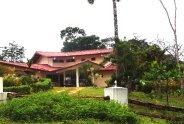 Information about Sierra Llorona Lodge
PO Box 0312-00036
Zona Sabanitas, Colon
Rep. of Panama
Tel.+507 442-8104, 6614-8191
A jungle lodge with comfortable accommodations, a green paradise for nature enthusiasts, located in a private tropical reserve of 200 hectares (494 acres). It is a vivid representation of Central America's tropical rain forest with abundant woody vines, orchids, mosses and bromeliads.

A great place to observe more than 200 + different species of resident and migratory birds, a great place for birders, but also to anyone interested in tropical nature, adventure or just relax.

The birds are numerous and easy to see even at the gardens surrounding the jungle lodge, but the best birding is at the interlocking trails that go into the forest jungle.

A series of walking paths and observation ground platforms surround the Lodge, prime locations to observe birds at the canopy of the forest. You can wait for the hummingbirds to come to the feeders or you can also enjoy doing night trekking, owling, or just lay back, relax and enjoy the panoramic view of the Caribbean Ocean or admire the abundant green tones that nature will show you.

We are a great place to begin learning the birds of the Caribbean Slope of Central Panama, and also there are many rarities to keep the experts busy.

Our lodge is located near internationally recognized birding spots such as Achiote Road mentioned in the New York Times as "the prime birding site in Panama" (april 2002). All these activities will keep you entertained after you're done exploring our grounds. Visit us and stay for a few nights experiencing our hospitality.

The lodge's grounds offer beautiful panoramic views including part of the northern entrance of the Panama Canal, the City of Colon, Galeta Point, Bahia Las Minas and the Caribbean Sea.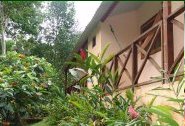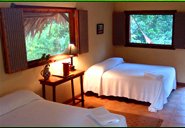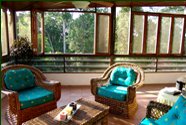 (Please click on a letter for companies in the free zone starting with that name)