Information about Girag Panamá S.A.
Aeropuerto Int. De Tocumen Bodega 1
Tel.+507 238-3451, 238-4289
Girag Panama was founded to serve the need to improve Transport and Connections services to Central America the Caribbean and Asia. Girag Panama associate of Girag Colombia a multimodal cargo firm was founded July 26 1978 in Panama City. It is a business leader in the realm of national and international cargo transport and Aircraft Loading and Unloading services according to Resolution number 9746 of August 21 1986 and Resolution 04391 of November 16 2000 of the Civil Aeronautics.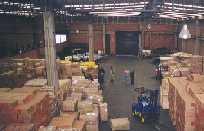 (Please click on a letter for companies in the free zone starting with that name)