Asesorías, Inspecciones y Recobros, S.A. (A.I.R.)

Information about Asesorías, Inspecciones y Recobros, S.A. (A.I.R.)
Edificio Valencia, Piso 4, Oficina 402, Cl. 16 y Ave. Santa Isabel, Zona Libre, Colón
Tel.+507 441-6920, 263-6697
Website: www.grupoair.com.pa
As independent loss adjusters we investigate the origin/cause of the damage/loss, the circumstances and the amount being claimed. Upon conclusion to our inspection/investigation, we analyze the facts and the insurance contract to determine coverage and the amount to be indemnified.


Martime Lines
In our marine line of services we can offer you the following :
* Cargo Surveys
o Preshipments and/or Loading Surveys
o Perishables (fridged containers)
o Cargo Surveillance
o Packaging
o Surveys - Cargo Loss/Damage
o Out Turns
o Loss Control Service - Origin / Destination
* Marine Claim Adjustments
o We investigate and analyze the loss/damage circumstances, set the amount susceptible to be indemnified in accordance with the policy clauses.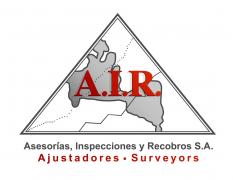 (Please click on a letter for companies in the free zone starting with that name)