Information about Rosen Imp. y Exp. S.A.
Edificio Rosen
Calle 14 y Calle C
Zona Libre de Colón
Panamá
Tel.+507 445-3000, 840-3550
Website: www.rosenzonalibre.com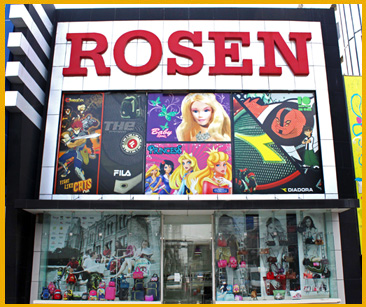 Rosen offers you 30 years of experience and international market presence for backpacks, BAGs and luggage.

We have distribution lines set up throughout Latin-America, proven experience in the production and distribution of licensed backpacks, brand name luggage, private labels, product design solutions ranging from the production logistics up to the delivery of the products; and all of it with the Rosen quality guarantee.

At Importadora y Exportadora Rosen S.A. we are focused exclusively on our product lines without diversifying into different products so as to guarantee the our quality and expertise. We have over 20 different internationally recognized brand licenses and our client list includes the most highly regarded companies in their countries.

We design, produce and distribute our over one thousand different backpacks, luggage pieces and purses. We offer design and production services for customers who need a product made specially for their needs, whether they be government agencies, regional chins, international brands or wholesalers looking for for a product that will set them apart from the competition.

We cater to your needs at our 2000 square meter showroom and immediate shipping from our 25,000 square meter warehouse at the Zona Libre de Colon and, if requested, we can ship within 24 hours. Having our service and broad inventory is a competitive advantage that will strengthen your business.

We offer live video conferences if your customers cannot visit us. You could literally stroll through our whole showroom with one of our sales representatives and pick your products live, even create promotional products. We have extensive experience in planning for back to school crunch times with 12 advance production and our technological advances allow us to fulfill our customer's needs on a case by case basis, weather it be bar codes, LPN, SKU, Inner Packs, Box Standardization, packaging that complies with customs for each country, logistic support, inventory control and production, etc.

At Importadora y Exportadora Rosen you will find professionals ready to assist you, listen to your needs, address your concerns and, if requested, advise you on market trends. Your success is our success, and after 3 decades on the market we have proven that statement to be true.

Vision
Place our brands as the most recognized and expansive in the latinamerican market, always seeking new goals while focusing on excellence, because our customers are always looking for the best quality.

Mision
Maintain our leadership in the distribution of backpacks, luggage, carrying bags, purses and accessories in Latin America; providing our customers with business opportunities in their markets.
Brands:
Stupid Factory, Power Puff Girls Z, Pockemon, Marvel Heroes, Los Padrinos Magicos, Justice League, Joy Sport, Head, Fila, Elephant, Ecko, Body Glove, Baby Sport, Baby Picolino, Air Express, Versada,



(Please click on a letter for companies in the free zone starting with that name)