Information about Intratex S.A.
Calle 16 y Avenida Roosevelt

Apartado 0302-00746
Zona Libre Colon
Republica de Panama
Tel.+507 446-4444, 445-4444
Website: www.intratex.com
In the world of business with its dizzying changes and intense techonological development the majority of the greatest commercial successes have been the result of good planning and a good team. Conscious of this reality Intratex S.A. began operations in the 70s in a small facility in the Colon Free Trade Zone. Thanks to much effort experience and the professional direction of its founder Mahmud Yafar whose vision and style formed the outline to follow to achieve its goal of becoming a leader in the world of fashion.

Our business has evolved and become one of the leaders in whosales with a wide variety of clothing products for women men and children. Currently Intratex S.A. is a business with more than 30 years of experience in the national and international markets.

Intratex has created a team of highly experienced professionals who receive constant training use the most advanced technology and tools available to offer services in the field of clothing and shoes sales for men women children and infants.
One of our values is based on promoting team work which encourages each employee to give their all improving the work environment.

With our years of experience since the 70s our business is one of the most recognized in the field. We focus ourselves stuying the market to develop strategies to satisfy the consumer demand in Latin America. We anticipate trends planning all of our operations proactively.
Brands:
Ninfa, Nell, Libra, Le Gala, Kids World, Giorgio Ferrara, Funk, Far Fox, Sweet Lady,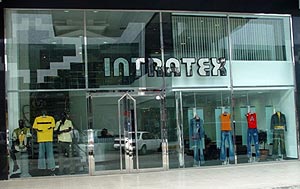 (Please click on a letter for companies in the free zone starting with that name)