Information about Afisa Zona Libre, S.A.
Calle 16 y Ave. Roosevelt, Edif. AFISA
Zona LIbre, Colón
República de Panamá
Tel.+507 441-6202, 441-6884
Website: www.afisa.com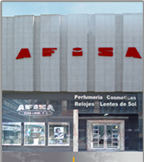 Afisa Zona Libre is a company with extensive experience in the distribution of shoes, handbags, sunglasses and perfumes. We also have the latest released by prestigious brands, including Calvin Klein, Carolina Herrera, Cartier, Guess, Hugo Boss, Lacoste, Michael Kors, Oakley, Ray - Ban.

The company has organized its personnel structure in order to attend to the commercial demand and operations required by the brands it offers.

The company posseses a Comittee of Directors composed of general managers, marketing managers, operations managers, administrative managers, and finance mangagers.

This team develops the strategic plan and puts it into action in order to achieve the objectives established in the plan for the company's sustainable growth.

The General Management plays an active role in the development and design of innovative business strategies with the object of projecting the image of the company and its position in the market, as well as the lines of products the company carries.

As part of its strategic plan the company forms alliances and business relationships that add value to the products and services it offers.

The Marketing Management, composed of the Marketing, Sales, and Customer Service segments, has as its mission the design and implementation of strategies based on market research which capatalize on and strengthen both the national and international market in benefit of our clients and our business.

To this end, the Sales Department is composed of a team of local and internaltional sales persons (Central America, South America, and the Carribbean) who specialize in the lines of products that the company offers with the objective of promoting and developing points of sales that deliver results in our operational centers. Additionally, our Customer Service segment in a continous manner attends to the requests and needs of our clients at both the national and international level.

Supporting these activities the Operational Management (including both Finance and Administration) develops action plans to promote the sustainable growth of the firm and its affiliates in order to respond to demand and provide efficient service to our clients as well as monitor the interal effectiveness of the firm.
Brands:
Time Bomb, Supreme Ultrasheen, Sandoz, Organic Olive Oil, Murex, Luster, Laurel Cosmetics, Hask Placenta, Gucci, Fructals, Dragon Noir, Disney Baby, Dior, Bulova, Bio Shine, Beauty Color, Axis Silicone, Victoria Secret,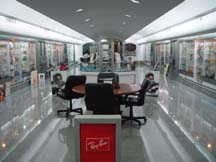 (Please click on a letter for companies in the free zone starting with that name)